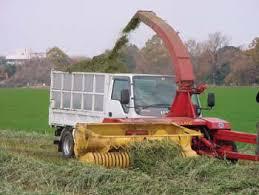 Due to labour shortage many farmers are adopting grain harvesters/pickers intensively for managing food crops like wheat rice, maize, oil seeds, pulses leading to huge loss of fodder biomass which was otherwise available to dairy cattle in manual harvesting system. For reducing fodder wastage, the farmers need to introduce fodder mowers and auto pick up devices for effective management of fodder and recovery of straw after combining. Mowers are high speed green fodder and straw harvesting machines having inbuilt options for threshing / chopping / trailer loading / stem cracking/ conditioning. They are the most economical devices for straw recovery, silage making, hay making, mulching, composting/fertigation. Mowers are also known as roughage management machines used for intensive fodder production for higher protein and higher energy recovery at right stage of harvesting, storage, banking and ware housing.
Depending on season, crop hardness, tenderness, thickness, height and moisture of different crops various types of mowers are to be propagated. Following three kinds of straw securing and fodder management devices will be extremely useful in near future:
a) Auto Pick up Balers supported by Disc, Sickle & Drum type reapers.
b) Flail Mower, Chopper Loader
c) Combine prevention/ reversal mowers
a) Auto Pick up Baler is driven by 50 - 75 hp tractors. It picks up a swath width of about 1500 -1800 mm. Straw or hay pick up rate with this machine is about 1 to 2 MT per hour depending on crop and swath. Size of the bales can be adjusted from 10 to 20 kg. Small bales are easy to handle and can be transported to transit storage points with ease and minimum drudgery. Loading, unloading and stacking of fodder becomes very convenient after field baling. Also onward trading and distribution is quite convenient after baling. Left out straw from dwarf varieties can be baled directly after combining. But for taller biomass additional disc or drum or sickle type mower is essential before baling works. For managing high moisture biomass we need another machine called collection inversion cum liner rake so as to sun dry the biomass before pick up & storage. The baler machine can work on almost all types of biomass. About 20 MT of straw can be secured in one day by employing 75 HP tractor driven baler. Many leading international brands of straw or hay baler machines are active in India now – Claas, New Holland, John Deere, Kuhn are among the top players.
b) Flail Mower, Chopper Loader is also driven by 50 -75 hp tractors. It pick up swath width of about 1300 to 1900 mm. Straw recovery rate with this machine is about 2 to 3 MT per hour depending on crop height and swath. Machine has option of blowing the fodder biomass back into field for sun drying or fertigation or mulching as per specific needs of the farmer. For high moisture biomass collection, inversion cum liner rake is also required so as to sun dry the biomass before pick up and storage. The machine can work on almost all types of biomass. The mower ensures added benefit of high speed silage and hay making due to inbuilt chopping and cracking facilities. About 20 MT of straw can be picked up in one day with this mower in loose form. Mechanisms used in the flail mowers are simple, but strong & sturdy. Therefore, low skill level workers and operators can also run this type of biomass recovery mowers. Major players for flail harvesters in India are Fimaks, John Deere, New Holland.
c) Combine prevention / reversal mowers -Under this category many kinds of smaller crop mowers are available now. Self propelled Reaper Binder with 10 HP diesel engine is gaining momentum in India due to its versatile usefulness in fodder as well as grain crops like wheat, rice, rain-fed sorghum, bajra, pulses, oil seeds etc. The machine harvests the crops at almost zero level - just 60 mm above the ground thus guarantees 100% straw recovery. Bundles made by the reaper binders are fully automatic (labour free ) and are quite handy. BCS and Jashoda are top suppliers for reaper binders in India. The mower machine can harvest about 8 Acre in one day.
Video clips of few selected important mowers can be accessed at the following links:
Fodder Mower - Wastage of fodder is to be reduced
Fodder Mower - Drum Disc Sickle type
Fodder Mower - Mower Chopper Loader Flail
Fodder Mower - Wet Stover
Fodder Mower - Straw Rake
Fodder Mower - Auto Pick up
Fodder Mower - Reaper Liner
Fodder Mower - Reaper Binder 35
Fodder Mower - Reaper Binder 10