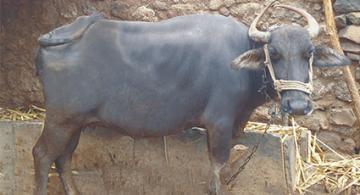 Dharwadi buffalo is distributed in Bagalkot, Belgaum, Dahrwad, Gadag, Bellari, Bidar, Vijayapura, Chitradurga, Kalaburgi, Haveri, Kopal, Raichur and Yadgir districts of Karnataka. Dharwadi is a medium sized buffalo. Coat colour is black. Head is straight. Horns are semi-circular and almost touching to wither. Ears are erect. Udder is medium in size; teats are cylindrical in shape. It is reared mainly for milk purpose. Average lactation milk yield is 972 litre. Daily milk yield ranges from 1.5 to 8.7 litre. Average percentage of milk fat is 6.9. The milk is used for preparation of famous Dharwad Peda with GI tag. The animals are well suited for low rainfall areas.
For further details please visit the following:
Dharwadi Buffalo - ICAR- National Bureau of Animal Genetic Resources
Compiled by Animal Breeding Group, NDDB from Information System on Animal Genetic Resources of India (AGRI-IS)- developed at National Bureau of Animal genetic Resources, Karnal, Hariana, India.