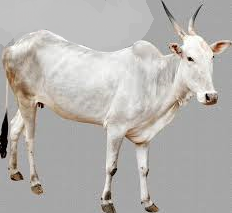 Also known as "Mysore", the breed is considered as best draught breed of Southern India. The breeding tract comprises Mysore, Mandya, Bangalore, Kolar, Tumkur, Hassan and Chitradurga districts of Karnataka. It is white to light grey in colour. Young breeding bulls have dark shades on shoulder and hindquarters. Horns emerge near each other from top of poll and are carried straight, upward and backward, till nearly half the length and then orient slightly forward and inward with pointed tips. White markings or irregular patches around the eyes, cheeks, neck or shoulder region are also found. The animals are maintained in semi-intensive management system by professional breeders. Green fodder chiefly comprises finger-millet, grass, sorghum or pearl-millet. Average milk yield per lactation is 542 kg ranging from 227-1134 kg with average milk fat of 5.7%.
For further details, please follow below given link:
http://14.139.252.116/agris/breed.aspx
Compiled by Animal Breeding Group, NDDB from Information System on Animal Genetic Resources of India (AGRI-IS)- developed at National Bureau of Animal genetic Resources, Karnal, Hariana, India.