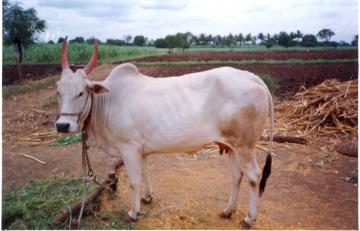 KRISHNA VALLEY:
Krishna Valley breed is a draught breed used extensively in the black cotton soil in the watershed of Krishna River. The breed is also known as "Kistna Valley". The breeding tract of the breed includes Belgaum, Raichur and Bijapur districts of Karnataka and Satara, Sangli and Solapur districts of Maharashtra. It is believed that the Gir and Kankrej breeds of Gujarat, Ongole breed of Andhra Pradesh and local cattle having Mysore type blood in them have contributed to the origin of this breed. The common colour is grey - white with a darker shade on fore & hindquarters in males. Adult females are more whitish in appearance. Brown & white, black & white, and mottled colours are often seen. Its massive body and distinct bulging forehead can easily identify this breed. Horns are small in size and curved and usually emerge in an outward direction from the outer angles of the poll curving slightly upward and inward.
For further details, please follow below given link:
http://14.139.252.116/agris/breed.aspx
Compiled by Animal Breeding Group, NDDB from Information System on Animal Genetic Resources of India (AGRI-IS)- developed at National Bureau of Animal genetic Resources, Karnal, Hariana, India.