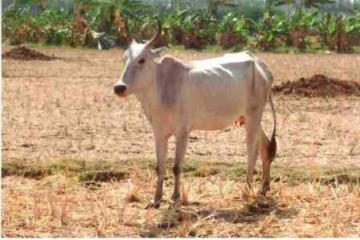 Pulikulam is a popular draught and game breed of Tamil Nadu. It is named after its village of origin (Pulikulam in Tamil Nadu) and is also known as "Palingu maadu", "Mani maadu", "Jallikattu maadu", "Mattu maadu" and "Kilakattu maadu". Madurai, Sivaganda and Virudhunagar districts of Tamil Nadu form its breeding tract. Males are dark grey in colour while females are white or grey.The animals are small sized with compact body and short legs. Muzzle, eyelids, tail switch and hooves are black. Fore Head is broad and has a groove at centre. Hump is large in males and small in females. Udder is not well developed. Horns are curved outward, upward, backward and then inward, ending with pointed tips spaced wide apart. The breed is not meant for milk production and only a few animals are milked in a large herd for consumption by herdsman. Generally, milk yield is about 1.25 Kg per day within a range of 0.5 kg to 2 Kg. The animals are also reared for manure purpose.
For further details, please follow below given link:
http://14.139.252.116/agris/breed.aspx
Compiled by Animal Breeding Group, NDDB from Information System on Animal Genetic Resources of India (AGRI-IS)- developed at National Bureau of Animal genetic Resources, Karnal, Hariana, India.