Hello everyone!
Let me introduce you a new milk purification technology!
Do you know how to raise up your milk grade?
Do you know how to remove up to 98% from your milk?
Do you know how to reduce bacteria level and SCC?
Check this out!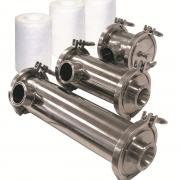 UVMILK Ltd is working in the sphere of fine milk purification for more than 13 years. We have invented absolutely new filter and it is the answer to the above mentioned questions!<
This is the UVMILK filtering system. Filtering elements are made of food grade polypropylene. They have unique structure that helps to:
Reduce the amount of mechanical impurities in the milk up to 98%
Reduce the SCC and bacteria level
Remove the smallest impurities up to 5 microns in size
Reduce the acidity level
Increase the heat resistance of the milk
Extend the shelf life
Increase the milk grade
Raise the price per 1 liter of milk
The Milk filter housing UVMILK is made of high quality stainless steel according to international food and dairy industry standards.
Would you like to encrease your milk quality?
You should try UVMILK filters if you really do! More than 5000 customers all over the world have already tried UVMILK products and send us their thanks!
Any questions appreciated!