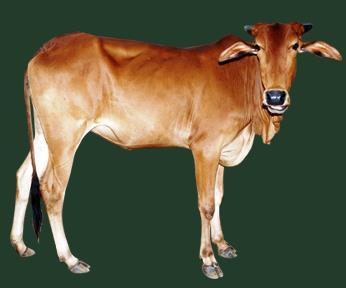 Originated from Kandhar tehsil in Nanded district of Maharashtra, Red Kandhari is also known as "Lakhalbunda". It is a draught breed of cattle. Its breeding tract comprises Ahmadnagar, Parbhani, Beed, Nanded and Latur districts of Maharashtra. The colour is uniform deep dark red, but variations from a dull red to almost brown are also found. Bulls are a shade darker than cows. Horns are evenly curved and medium sized. The animals are maintained under extensive management system on grazing only in small herds. Small amount of concentrate is offered to bullocks, male calves and milking animals. The bullocks are used for heavy agricultural work like ploughing and carting as well as for transportation. The cows produce fair quantity of milk with an average of 598 Kg per lactation with average fat percentage of 4.57%.
For further details, please follow the link given below:
http://14.139.252.116/agris/breed.aspx
Compiled by Animal Breeding Group, NDDB from Information System on Animal Genetic Resources of India (AGRI-IS)- developed at National Bureau of Animal genetic Resources, Karnal, Hariana, India.