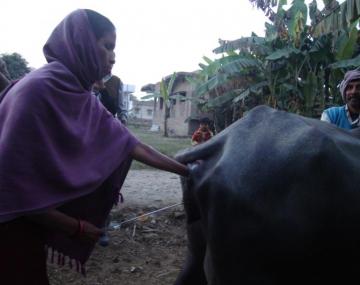 Case Study of a women AI Technician
Name: Ms. Anita Kumari
Qualification: Matric
Place: Mahila Chaksakra, P.S: Hazipur,
Dist.: Vaishali
Family members: 8 (Wife, husband, their parents, two son and two daughter)
Anita Kumari resident of Mahila Chaksakra village is a perfect example of women empowerment. Initially she started dairying to improve her economic condition and gradually it became her passion. Income from agriculture and sale of banana & lichi by her husband was not enough for their livelihood. Soon she realized that she needed another source of income and she enrolled for Artificial Insemination (AI) training programme sponsored by Patna dairy at Yelmanchili (Visakhapatnum) in 1988. Although in this programme many other female candidates left the training in between, Ms Kumari successfully completed here 90 days training and 30 days practicals in field AI center. After training she started AI, initial one year she use to do 40-50 AI/month and gradually it increased to 90-100 AI/month and in next 2-3 years she was performing 250 AI/month. By her field experience she understood only doing AI was not enough and to be successful she should know to treat intrauterine diseases as well as infertility problems so she associated with veterinary doctor at Patna dairy and other local block veterinary doctors and gained knowledge about treatment of different reproductive diseases and infertility problems.
By her field experience she also understood that major cause of infertility is nutritional deficiency i.e. farmers are not giving mineral mixture and adequate amount of cattle feed to their animals. As per Ms. Kumari cause of infertility is lack of giving de-worming medicines to the animals and intra-uterine infection. By the discussion it was evident that she had good knowledge of intra-uterine treatment. This is her major advantage over other AI technicians and thus, even in this era of door-step AI delivery farmers still believe in her and she is doing 90-100 AI per month at her DCS.
In 1990 she started a poultry farm (1000 capacity) from which she could earn Rs.3000-4000 per month. Her success story did not stop here and in 2001 she became DCS secretary (150 litre milk/day) and from here she use to earn 900-1200 per month. By now she is earning Rs. 2500-3000 per month from AI and she owned 2 buffaloes and one cows and her average income from cows was Rs.3000-5000/month. Family also earns Rs.1000-1200/katha from their banana plantation.
With the support of her husband she was able to give a better life and education to her children. One of the two daughters completed her graduation in economics honours and got married to major in military, 2nd daughter completed her graduation in English honours from Hazipur. Both sons also completed graduation in Math from Hazipur. She not only successfully supported her husband in up-bringing of her children but the family now also owns a good house at Hazipur and four katha land in Hazipur town present value of which is 70-80 lakhs.
Present case study proves how AI training and its practice can be instrumental in women empowerment. Knowledge gained during AI training and field experiences also helps to improve their knowledge about dairying which not only helps the individual but also helps other farmers to increase their income thus, AI training can be a good source of income and can help in reducing poverty in a country like India.