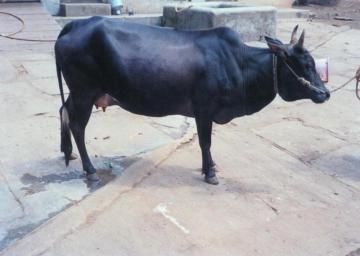 Malnad Gidda:
Malnad Gidda is also known as "Gidda", "Uradana" and "Varshagandhi". "Malnad" means a hilly region and "Gidda" means small or dwarf. The breeding tract of this breed includes Chikmagalur, Dakshin Kannada, Hassan, Kodagu, Shimoga, Uttar Kannada and Udupi districts of Karnataka. They play a major role in the rural economy of this region by providing milk, manure and draft power with negligible inputs. They are well adapted to the local agro-ecological systems of Western Ghats. The predominant coat colour is black with light shades of fawn on thigh and shoulder region. Horns are generally small, straight, outward, upward and inward. They are small with compact body frame and adult animals are around 90 centimetres tall. Tail switch is black in color, hump is small, udder is also small and bowl shaped. Malnad Gidda cattle are reared under low input low output system. In some areas, it is zero input system where animals sustain solely on grazing. Elite cows give 3-5 kg of milk per day and the average lactation yield is around 220 Kg. These animals are highly adapted to harsh climate including heavy rainfall.
For further details, please follow below given links:
http://14.139.252.116/agris/breed.aspx
Compiled by Animal Breeding Group, NDDB from Information System on Animal Genetic Resources of India (AGRI-IS)- developed at National Bureau of Animal genetic Resources, Karnal, Hariana, India.