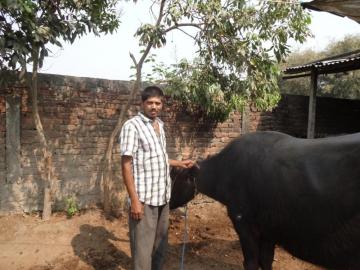 Dairy Farmer case study
Farmer: Shri Rakhes Kumar Singh
Family Members: 5 (husband, wife, 2 daughters & 1 son)
Place: Diglijote, Medical More, Darjeeling, West Bengal
Employees: Husband & Wife
Time in dairying: 20 years
Property: 1. Land owned: 4 kattah
2. Motorcycle owned: 1 No.
3. Livestock owned: 4 cows & 4 buffaloes
4. Chaff cutter owned: 1No.
Shri Rakesh Kumar Singh is progressive dairy farmer from Diglijote, Medical More in the Darjeeling District, West Bengal. Today he is economically independent and is able to spend a substantial portion of his income on account of children's education mainly because of his affluent dairy business.
He stepped into his dairy business in the year 1994 in a lease land with one cow which was giving only 10 lts of milk per day. But, gradually, he expanded his dairy business and shifted to the current location in the year 2002. He got his primary knowledge on dairying from his father while helping him maintaining his cows. Further Mr Rakesh Kumar Singh received the technical support from his uncle Dr. Gurudev Singh, retd. veterinary officer, Jharkhand and Dr Avijit Dutta from ARD Deptt., Govt of WB as well.
In course of time, the income graph of Shri Rakesh Kumar has been kept on moving upward. At this point of time he owned a plot of land measuring four kattahs. However, in the year 2002, Shri Rakesh Kumar shifted his farm to his own land.
Presently, Shri Rakesh is having 4 cows and 4 buffaloes. Out of four cows, one cow is 8 months pregnant and purchased very recently at a cost of Rs.65000/=. All the cows and buffaloes are under milking. Shri Rakesh Kumar Singh is selling 65-75 lts of milk per day @ Rs.40/= in the BSF campus in addition to the local supply in the periphery of his native area. Recently, he has installed one chaff cutter machine in his farm. He is also planning to expand his dairy business more keeping in mind to the local demand.
However, he said, during his early age he did not even have a home of his own but today he has a concrete house. He has his own motorcycle and his two daughters are studying in convent school, elder daughter in VI standard and younger daughter in IV standard and paying Rs.2300/= on account of tuition fees for his two daughters. His family is enjoying a good socio economic status in the village and they are all leading a comfortable life. He thinks that dairy farming is a good option for livelihood, especially for unemployed rural youth like him.
=====X======