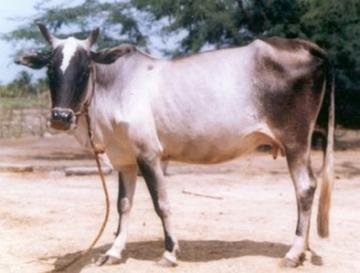 A noted draught cattle breed of Tamil Nadu, Umblachery is famous for its sturdiness and strength. It derives its name from a small village with same name (Umblachery) considered as native tract of the breed. It is also known as "Jathimadu", "Mottaimadhu", "Molaimadhu", "Southern", "Tanjore" and "Therkuthimadhu". The breeding tract includes Nagapatinam and Thiruvarur districts of Tamil Nadu. Typically, animals are red at birth and thereafter change to grey during development. Males are dark grey with black extremities whereas cows are grey with light dark grey area in face, neck and hip regions. There are white markings on face, limb and tail and the marking on the leg resembles socks. This breed is suitable for ploughing, carting, threshing and levelling in marshy paddy fields because of its medium size. Most of the cows are not milked and calves are allowed to suckle the dam. Average recorded milk yield is 494 Kg per lactation with average milk fat of 4.94%.
For further details, please follow below given links:
http://14.139.252.116/agris/breed.aspx
Compiled by Animal Breeding Group, NDDB from Information System on Animal Genetic Resources of India (AGRI-IS)- developed at National Bureau of Animal genetic Resources, Karnal, Hariana, India.