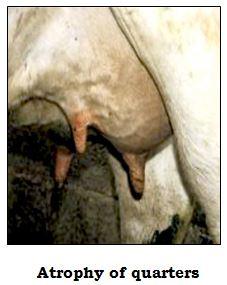 A persistent infection of udder.
Exists most of the time in the subclinical form.
Occasionally can develop into the clinical form before returning to the subclinical.
This results in hard lumps in the udder.
MAJOR PRE-DISPOSING FACTORS
Neglected sub- clinical mastitis
Improper treatment protocol of acute mastitis
Unhygienic shed
MAJOR SYMPTOMS
The affected udder may atrophy or may lead to fibrosis leading to decreased or total loss of production in the affected quarter.
Chances of recovery of chronically affected quarters are very low once atrophy/fibrosis has occurred.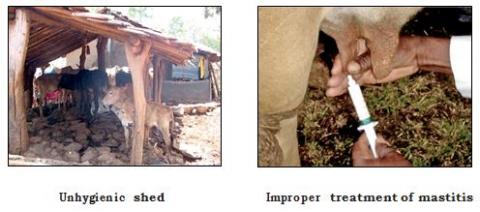 PREVENTION
Separate the affected cow from rest of the herd since they remain a source of infection for healthy animals. Milk chronically affected cows in the end.
Screen regularly for sub clinical mastitis and treat positive animals.
Shed hygiene is of prime importance.
TREATMENT
Antimicrobial treatment is usually not effective.
It is better to dispose off such chronically affected animals.
Avoid occurrence of chronic mastitis through timely action