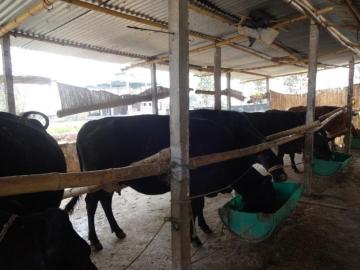 IT Man turns into Dairy Man
Farmer: Shri Gopal Chhetry
Family members :(Husband, wife, 2 daughters)
Place: Uttarayan, Matigara Block, Darjeeling, West Bengal
Employees: 2Nos. paid labourers
Shri Gopal Chhetry is a resident of Uttarayan under Matigara Block Darjeeling District West Bengal has been doing dairy farming in Deepnagar, Matigara for last two and half years. "Dairy Farming is interesting but it requires continuous hard work and dedication without any interruption" says Shri Gopal Chhetry, an IT professional turned into dairy farmer.
Shri Chhetry grew up in Shilong Meghalaya, studied Diploma in Electronics & Telecommunication from Pusa Polytechnic, New Delhi. After completing his education, he spent the first two decades of his life in the information technology industry. During his early age, he joined an IT Company at New Delhi and there he worked for two years and gained technical and managemental experience. Then he shifted to Kolkata and started his own business in IT sector. In the course of time, he got married and two daughters were born and he was very happy when he was at Kolkata. But when his second daughter was growing she was showing some symptoms of respiratory problem. However, his native place is at North Bengal Matigara, Siliguri. So during their vacation, whenever they visit to their native place, they observed that the daughter had no respiratory trouble. But when they used to go back to Kolkata same problem arise.
Because of his daughter's health problem, he finally decided to move on to his native place at Matigara for the betterment of the health of his daughter. But after shifting to north Bengal he realised the real problem as there was no suitable IT job at his native place. During the course of time, he met one progressive dairy farmer who suggested him for dairying. Initially, Shri Chhetry thought of going for dairy business; subsequently, made market survey to know the milk demand in and around Siliguri and suburb. During market survey he found that the dairy business is a stable, profitable and have a good market in Siliguri. Accordingly, he starts his dairy business in Matigara in the mid of 2013. At present he is having 08 nos. of cows at Deepnagar Matiagara with only one bigha of land. Out of 08 cows, 07 cows are pregnant and all the eight cows are giving milk. Shri Gopal Chhetry is selling 65 to 70 Lts of milk per day @ Rs.40/= per litre. He is marketing milk in the housing complex of Uttarayan, a posh area.
Recently, Shri Chhetry had participated to a training programme on Dairy Animal Management at Eastern Regional Demonstration & Training Centre, National Dairy Development Board through NABARD Darjeeling. In the training, he learned best practices for dairy farming including balanced feeding for increasing milk production and hard health management and gradually he is implementing his learning into his project.
However, he is going to shift his dairy farm very soon from Deepnagar Matigara where he has only one bigha of land to fifteen bigha land at Antujote Bagdogra which is 25 Km away from Deepnagar.
Shri Chhetry says that he is working very hard towards increasing productivity by expanding his farm by adopting fodder cultivation activities inside his farm premises and also wants to develop an efficient dairy marketing system so that he can increase his income.
He also says that starting dairy farming was a great decision that keeps him happy and providing money for his family. He attributes his success to the support he received from his family, particularly his wife and put his daughters in an English medium school.
=X=