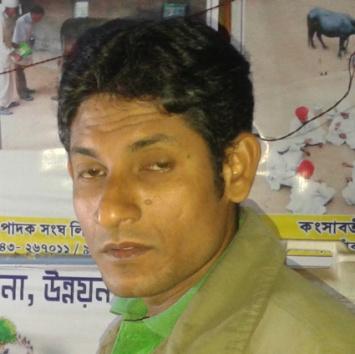 Nilesh Paine: Emerging as Role model for the numerous unemployed youths in village
Village: Bankata
Block: Indpur
Name of the DCS: Bankata milk producing co-operative society
Shri Nilesh Kumar Paine hails from the village Bankata of Indpur area in Bankura District. Born in a poverty stricken farm family, he used to help his father in farming activities. He could not continue his studies after Higher Secondary due to dearth of funds. He became frustrated about life and lost all hopes for future. When Kangsaboti Milk Union opened DCS in his village, he was selected for the job of DCS Secretary and soon after he was sent to NDDB RDTC Siliguri to participate in 'DCS Secretary' Training Programme. There he learned every detail of DCS functioning including DCS accounting system. He became well versed with DCS bye-laws, testing of milk, reasons for variation in fat% and so many other things of the dairy business. This became a turning point in his life.
After attending the training programme, the new avenue opened in his life. He found that dairying can be a significant tool to support their livelihoods, particularly during unfavourable times. He worked hard to organise dairy farmers and increased membership from 13-32, out of them 27 are women members. He values the role of women in dairying. He makes farmer understand the significance of pouring milk in village DCS. By dint of his hard work the milk procurement increased from 50 LPD to 120 LPD within few months. He believes that Livestock and village DCS are the valuable assets of rural poor in transforming their lives.
He also learned the scientific management of dairy animals, preventive health care of cattle, Vety first aid, feed supplement etc in the 'DCS Secretary' training at Siliguri. This helped him dealing with various other issues of dairy business, apart from his routine job. His annual income is Rs. 60,000 now. He is treated with great respect in his village for his socio-economic status. He is able to provide good education to his children from this earning and his family is also leading a good quality life. By dint of perseverance, hard work, intelligent farm planning and management, Shri Nilesh Paine has become a role model and live example for a number of unemployed youths in the village.